How to choose shoes for your reborn dolls?
As a lover of reborn dolls, you might buy all kinds of outfits for your doll, and treat them like a real baby. Cute skirt, stylish hairpin. But will you choose the right shoes for your doll?
You can buy suitable clothes for reborn dolls in baby clothes stores, but the shoes are not easy. Because reborn dolls can be worn for 1-3 months real baby clothes.But the size of the reborn doll's feet is different. Different series of reborn dolls have different foot sizes, but the difference is not big.The 17 ''-22 ''reborn dolls' foot length about 8-9cm, so you can choose about 3-4 inch shoes.Most of the dolls in the Reborn Doll Store are 17-22 inches. So they can buy the same size of shoes. If you buy a doll of other sizes, don't worry, you can measure the doll's feet with a ruler. There are also some suggestions for choosin
Choose shoes according to clothing
The same style of shoes will make the doll look more beautiful.
Choose breathable and soft shoes
If the temperature is too high, airtight shoes will fade the skin of the reborn doll. You can choose some shoes made of leather and cloth.
Choose shoes that are easy to clean
If you often take the reborn doll out, go for a walk, and practice walking.So easy-to-clean shoes will save you more money and time.
Choose a suitable pair of shoes for your reborn doll and take them for a walk.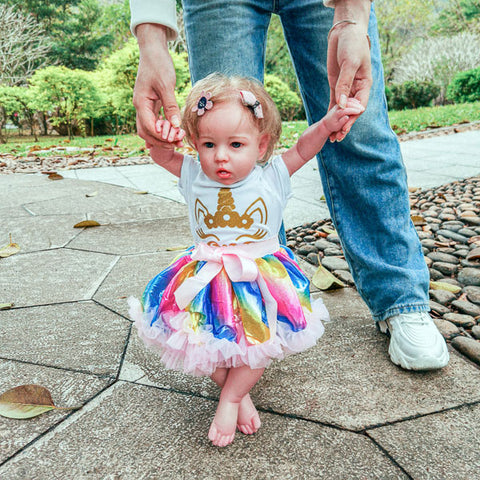 ---