Because our reborn dolls are all handmade and look more realistic, they are not suitable for children under the age of 6 as toys. Our reborn dolls take 10 days to make and 2 to 5 days to ship to the US. So but from the beginning of your purchase, you need 12 to 15 days to receive your reborn doll. Before you buy, you need to confirm your purchase needs before placing an order. thank you!
What is a reborn baby?
Reborn baby, reborn baby doll, lifelike babies, newborn dolls, …
You might be more or less familiar with these terms depending on how much you have immersed yourself in the world of these realistic lovely dolls that just look and feel like real newborn babies.
The thing is that they are getting more and more popular, and for sure there are several reasons for that.
Let's try to give a comprehensive explanation of what reborn babies are and what makes them so special.
Difference between a doll and a reborn baby doll – One of a Kind
Basically, a reborn baby doll is a doll that has been artistically modified to resemble as much as possible a real baby. And when we say "as much as possible", we really mean it.
| | | |
| --- | --- | --- |
| | | |
| Russian Doll | Cloth Doll | Reborn Baby Doll |
These dolls are sometimes so realistic that have embarrassed people who have mistakenly taken them as real babies. In few occasions, police broke into a car thinking they were rescuing a baby and it tourn out to be a reborn.
Many times, when looking at pictures of some of these amazing creations, it is literally impossible to guess if they are dolls or real infants.
Resembling a real baby, but not only that…
However, as reborn artist Melanie Katryn explains, a reborn is not simply a "realistic-looking doll". It is true that reborn dolls aim the closest similarity to a real baby by presenting a very natural skin color, texture, weight, feel, hair or gestures, but for a doll to be considered a reborn there are few requirements that need to be met.
Reborns are carefully hand-made throughout a long and time-consuming process. Each one of them is a unique work of art and consequently they become precious collector's pieces. Probably, the most valued feature of reborn baby dolls is that each one of them is "One Of A Kind".
Why are they called "Reborn"?
All the steps that are part of the creation of a reborn life-like doll are long, arduous and require specific artistic talent that not everyone has. The artist, or reborner, spends hours and hours (sometimes even weeks and months) crafting the reborn baby.
In many cases, artists would use an existing vinyl doll and transform it into a reborn by manually adding many layers of paint (sometimes up to 60 layers for darker skin tones)*, rooting its hair, adding glass eyes, eyelashes, and providing many other realistic details. It is understood then, that the old doll has been reborned into a new one. That is why this process of artistically transforming an ordinary doll into a more realistic looking baby is called "Reborning".
Adoption and Birth Certificates
Reborn dolls are not usual dolls and they are definitely not toys. This is why, many artists and collectors will not talk about buying and selling reborn babies. Instead, they talk about "reborn babies for adoption". Whenever a person decides to get a reborn baby doll, the baby will usually be posted to her with a welcome pack, including the adoption certificate or birth certificate (depending if we are talking about a case of reborning or newborning).
As you can imagine, there is lots of hard work and time involved into reborning a doll. The production cost of it, including the original doll parts, the paints, the tools or the accessories, and, especially the time required to create a reborn baby doll, are factors that add up to the price of these life like babies.
$150—————————————————————$3500
The cost of these realistic dolls is hugely variable, and it might range from a bit over hundred dollars up to several thousands. There are many aspects that might influence the price of a reborn doll, but they mostly have to do with the type of materials used (vinyl, silicone or a mix of both), the quality of these materials, their ability to achieve a higher realistic look and feel, and especially the talent and reputation of the reborn artist.
Most of these babies are adopted online, especially through specific reputable sites, online marketplaces and social media platforms.
Use of Reborn Dolls
However, the hobby of reborn baby dolls has something unique that sets it apart from any other hobby. This is the strong bond that collectors develop with their babies, whom they take care of and learn to love from the first moment.
As said above, Reborns are considered unique and valued pieces of art. They are not considered toys and, in general, are not meant for kids to play. Reborns are usually bought by collectors, who mostly enjoy treating them as the real babies they resemble.
Therapeutic Value
However, as this art and hobby is gaining popularity, many critical voices have appeared defending people's freedom of choice and highlighting the benefits of collecting and playing with reborn dolls. The powerful therapeutic value of reborn baby dolls has been shown in many occasions.
For example, reborn baby dolls have played a crucial role on grieving and comforting women who were unable to have children, mothers who lost a child or grandmothers who were feeling lonely after their beloved grandchildren grew up.
Reborn baby dolls have also been recently introduced in some care centres for the elderly, with very positive results, especially with Alzheimer's patients, helping them to feel calmer.
The Reborns healthy side
Who does not love to hold a baby? It has been scientifically proven that holding a baby has great benefits also for adults as it releases oxytocin, the so-called "love hormone" or "feel-good hormone".
Oxytocin, produced by the brain when we cuddle or hug, has many positive effects in our bodies and minds, such as promoting bonding, easing stress, triggering protecting instincts, and relaxing and calming us down. Oxytocin makes us feel good and improves our health. Taking care of a reborn doll might boost the release of this hormone, so do not hesitate to let your instincts go when approaching one of these lovely creations.
I hope this article was useful. Please feel free to comment and leave your thoughts, opinions and insights. We will be happy to hear your point of view and experiences, as for sure they can complement this information.
Specification:
Size: about 22 inches
Scent: soft baby powder scent, the scent of the baby comes from the vinyl material, non-toxic and eco-friendly
Safety: conforms or exceeds the safety requirements of ASTM F963 and EN71 for ages 3+, which is safe for your children
We will try to send you the same clothes with picture shows, but if the clothes are not in stock, we will sent random clothes.
Material:
Head: Silicone material
Body: Cloth Body Or Slicone Body
Limbs: Silicone , can be rotated and make the posture you want.
Eyes: High end acrylic eyes
Package Include:
1 x Reborn Baby's Bottle
1 x Magnetic Pacifier
1 x B irth Certification
1 x Reborn Baby Clothing
How to pay by credit card?
1. You can click on your cart to go to the Checkout page.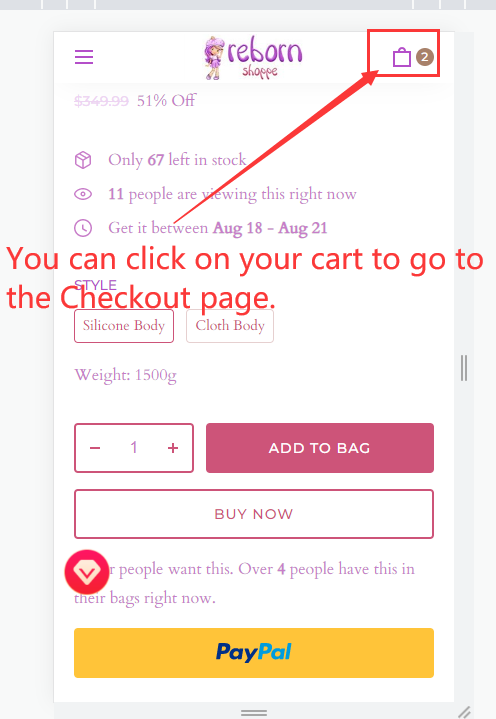 Or you can directly click the "Buy Now" button in the product page to go directly to the Checkout page.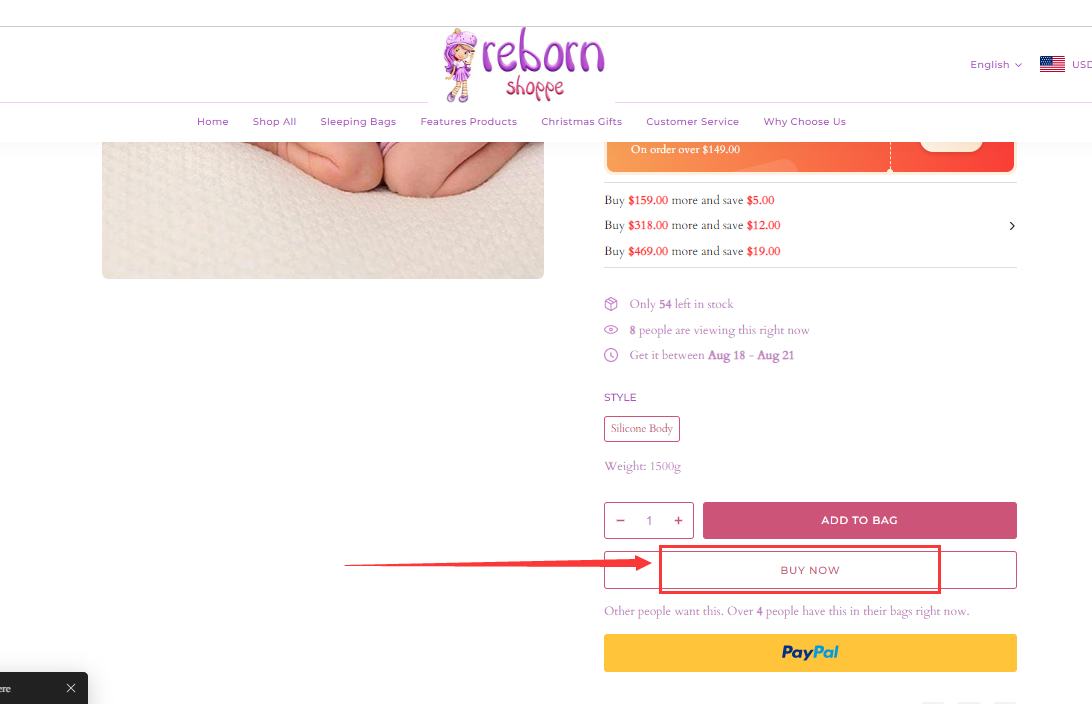 2. Then, click checkout to go to the payment page.
Then, fill in personal information on the payment page; then see "Continue to shipping" in the lower right corner, click it, and you will get the following page (choose the logistics shipping method);

3. Select the shipping method according to your transportation needs, and then click "continue to shipping" in the lower right corner to payment.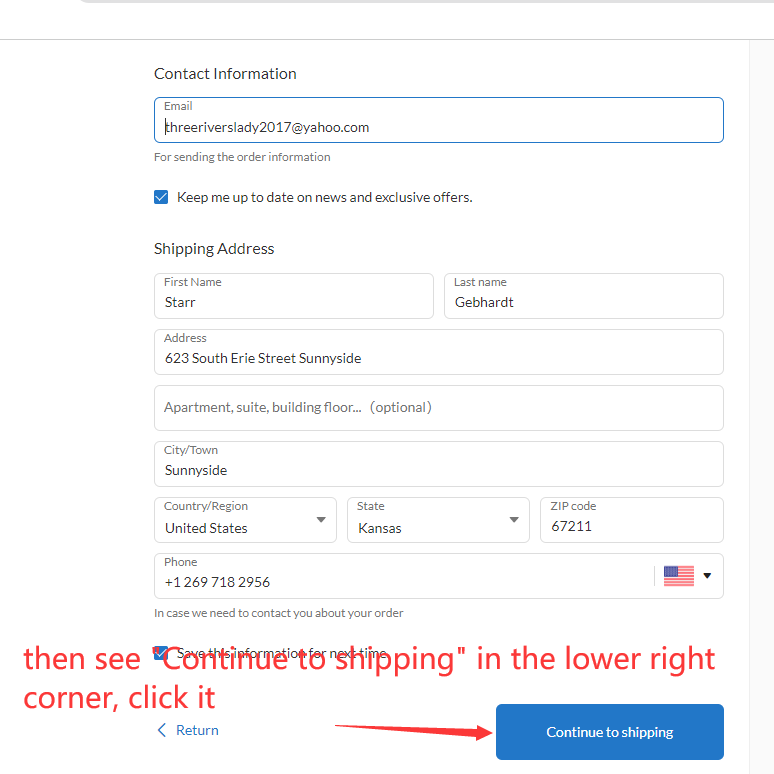 4. You can enter the payment method page, at this time you can pay by credit card now, or you can choose PayPal account to pay.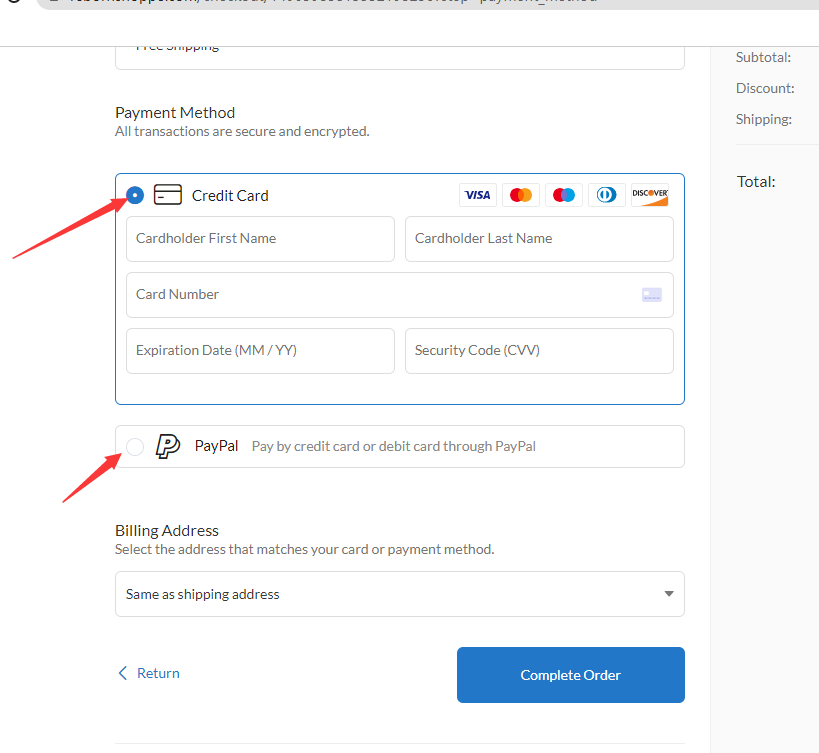 PAYMENT METHOD
We accept Visa, MasterCard and American Express cards.
You can also choose to pay with PayPal. When selecting this option at checkout, you will be directed to the PayPal site to complete your purchase before returning to Reborn Shoppe.
If the card transaction is approved, the amount will be reserved immediately and you will receive an order confirmation to your email. If the credit card transaction is not approved, your order will be cancelled. Please contact your bank or card provider if you have any questions about this.
PAYMENT SECURITY
Reborn Shoppe uses Secure Socket Layer (SSL) technology to encrypt and protect the data you send us over the internet. If SSL is enabled, you will see a padlock at the top of your browser and you can click on this to find out more information about the SSL digital certificate registration.
You will also notice that when you look at the URL at the top of the browser you will see that it begins with 'https' instead of 'http'. This means that you are in secure mode.
Reborn Shoppe is registered with Cybertrust as an authentic site. This ensures that your information is kept private between your web browser and our web server.
If your card issuer is based in the EU, you may be asked to verify your payment due to a new requirement under the second Payment Services Directive (PSD2). You'll be directed to a dedicated page to enter further information or asked to authorize the payment using your mobile phone. Once completed, you'll return to Reborn Shoppe.